Housekeeping
I am in North Carolina right now, so you get a throwback episode.
If you don't know where to start in prepping, check out my resource page at theprepperpodcast.com/gettingstarted
Don't forget to give me a review at theprepperpodcast.com/itunes and you could win a consulting call with me. (You must email me with subject: Podcast Review so I can contact you… This includes any past or new reviews if you want to be able to win.)

Today's winner is TWINKLETWINKLETOES
News in 2 Minutes with J. Bradbury of PreparePDX.com
Topic:
Discussion:
Related Blog Post: Disasters Emergency Action Plans Emergency Evacuation Procedures
This entire episode was just a tiny bit of my one year preparedness system.

How To Be A Prepper: One Year Emergency Preparedness System

When there is a disaster you will have to decide:

to bug-in for security
or to bug-out to get away from danger
We must prepare for both bugging in and out

You will bug in when:

disaster requires you to stay home (such as a food shortage or sickness)
or at home the disaster will do you no harm (loss of job)

You will bug out when:

You have a disaster that is immediately hazardous to life and health (forest fire spreading, nuclear disaster that hasn't made it to you yet)
A disaster is regional and you have an evacuation location out of the region (such as a storm that has destroyed the area)

When stress is high, will you know what to do, what to grab, or the best way to get to your BOL?

we use emergency action plans

what is an emergency action plan?

A document with important information and documentation to help you and others to follow well thought out steps to ensure success when executing a bug-out plan.

Why should you have an Emergency Action Plan or Emergency Evacuation Procedure?

Family members stressed can follow the easy written steps
keep your spouse on track and clear their head
help you with your own memory
Irresponsible children may surprise you in a bad situation if they have a good plan
they will help you figure out what you are weakest at, and where attention is due

What should be in an Emergency Action Plan or Emergency Evacuation Procedure?

List of likely disasters

Jobloss
House fire or damage
Tornados
Hurricanes
Snow and Ice Storms
Earthquakes
Floods
Volcanic Eruption
Meteor Impact
Economic Collapse or Viral Outbreak

What is most likely?
Where will it come from?
Will you stay home or evacuate?
Rank them and work on most likely first

List of important contacts

Family
Professional Contacts

Banker, Brokers, Investment Firms, Employers

Emergency Services
Each Contact should include:

Phone numbers, addresses, social media info, email addresses

The roles for each family member

Father- Keep everyone together, security
Mother- Packing list, important docs, call family members
Teenagers- grab their own bag and important items

gather pet supplies, social media updates if needed

Small Children- Grab their bags and toys, grab pets
The roles you give each person depends on your own comfort level

Financial Information

Bank Accounts

Acc Number, routing number, type of account

Loan Information

account mgr contact, type of account

Invesment Accounts

Firm, Contact at the firm, broker contact

Insurance Accounts

account mgr contact, account number

Property Titles
Copy of your car registrations
All Financial contacts should have

Copy of your favorite survival books
Plan for your Pets

Their own bags
Food: Cheap dried dogfood
Where in vehicles, which vehicles will they ride
will you have to take them anywhere?

Evacuation Routes

As easy as 3-3-3

3 destinations
3 Routes for each destination
3 Rally points or rest stops for each route

Will everyone know what rest stop b on route 3 is?
What if you arent at home, others need to be able to look in EAP and determine what to do or where to go

Code phrases for danger
Packing Lists

IHLH (Immediate Hazard to Life or Health)

BOBs
Premade Bags
Important Documentation
Anything quick and easy to grab that will do the most good

An Hour or Two

Add items to your list based on your needs

A day to pack

Fireproof Safe

central place to grab important docs in a hurry
safe place for your documents as well
Keep things like

detailed financial map or information
IDs
other important documentation

Keep your most important and most detailed Disaster Plan in the safe

How many copies of your Emergency Disaster Action Plan or Emergency Evacuation Procedure should you have?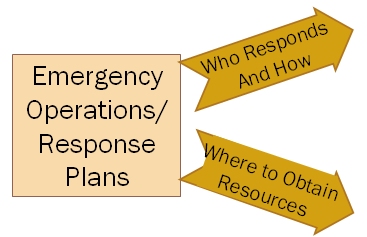 Several physical copies

Each Vehicle
Each bugout bag
A copy in your home for each family member
Your most detailed and important copy in a fireproof/waterproof safe
Copy to your most trusted family members (not living with you)

they may not listen to you until it is too late
this can be your contribution to help them
they will now be able to contact you and meet up with you for help

Many digital copies

One on every single computer in the home, including laptops
One on each smartphone or tablet

portable, low energy consumption, easy to keep charged

Email it to yourself using web-based email so it is stored online
You could keep a copy "on the cloud"
purchase drive space from a long term storage host, like Amazon Glacier

a penny per GB per month
slow and free to pull a GB
12 cents per GB up to 10 TB (120 dollars for a TB, or 1000 GB)
Remember that this entire episode was just a tiny bit of my one year preparedness system.

I have my How To Be A Prepper: One Year Emergency Preparedness System finished and ready to sell, but it has taken me a little while to set up the best online store or ecommerce for it.